Merry Jane's Cannabis - Like Father, like Son 
June 18, 2021, Posted by
Kelly
Father's Day is for all the Dad's and Father figures out there. The people in our lives who taught us how to play ball, took us fishing to the creek on the weekends and took pleasure in yard maintenance while adorning their favourite weathered pair of Nike's. We salute our Dad's for their hard work, selfless sacrifice and the generous wisdom they bestow upon us. We had the opportunity to sit down (virtually) with Tom, owner of Merry Jane's Cannabis, right here in Victoria Park. 
A savvy entrepreneur, Tom was an early adopter in the legalization of Cannabis and sought proprietorship at his earliest opportunity. His passionate business endeavour led him to the community of Victoria Park, where he has set up shop since July of 2019. The journey is exciting and educational for Tom with something new to learn each day. 
"I've learned a lot more about cannabis after I got into the business," Tom explains. "I had to know what I was talking about to our customers - I became a student of it."
A father of three sons, Tom has had the privilege of running the shop with his youngest son, Sean, as his right hand man. Corey is his oldest son who has an MBA and works for a major pharmaceutical company while his middle child, Michael, is a senior animator for Call of Duty - maybe you've heard of that game? While many modern-day parents struggle with work-life balance between their careers and their family, Tom has the privilege to spend most days working and collaborating with his son Sean. 
"Sean and I have a lot of fun together. He has taken on a lot of responsibility with the store, mainly with duties around the computer," he chuckles. "Customers ask for him - they love his recommendations and customer service."
In addition to Sean providing fresh vision and expertise for Tom's business, the opportunity has forged their relationship and strengthened their bond. Through the business, they have enjoyed much quality time together and Tom has never been happier.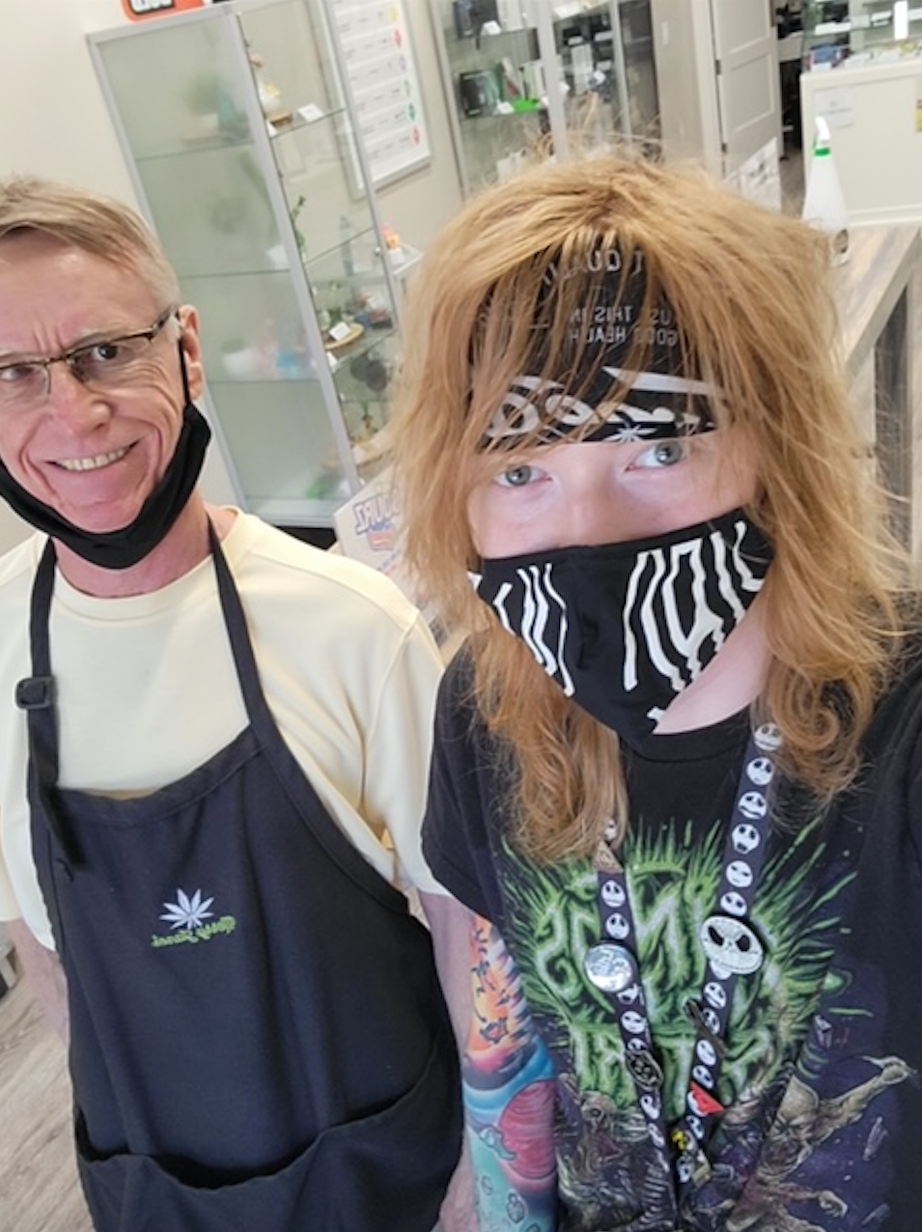 "Sean lives close to me - we drive to work together every day and spend a lot of time together," says Tom. "For Father's day he'll be at my home for a visit - time spent with my son is very important."
If there's one thing Tom and his family share, it is a love for animals. With this in mind, it was important to provide an inclusive storefront that was pet friendly. Amongst their 500+ loyal customer base in Victoria Park, many of them love to bring their beloved pooches and furry friends to the shop. You are guaranteed to be greeted with a smile and a treat for your pet at Merry Jane's Cannabis. 
"We are extremely pet friendly!" Tom states proudly. " We are very grateful for our customers in the community and love it when they come in with their dogs. We have treats behind the counter for them."
For a fun Father's Day gift this year, treat your Dad to a pack of CBD gummies, or perhaps a sativa pre-roll if they're a more experienced cannabis connoisseur. Be sure to pay attention to ongoing sales at Merry Jane's Cannabis - popular items that are 10 per cent off for non-members and 20 per cent off for members. In addition, their anniversary is just around the corner on July 26, stop by for a spin on their prize wheel. At any time, you can be sure Tom or Sean will be around to provide you with excellent customer service and knowledgeable information on Cannabis - like father, like son.
https://merryjanescannabis.ca/ 
Instagram: @merryjanes.yyc