A/Maze: Escaping the room
September 22, 2017, Posted by
Kelly
After hearing nothing but A/Maze-ing things about a new escape room located in Victoria Park, we saw no other option than to try it ourselves. We met with Sean Lynch, co-owner and co-mastermind behind A/Maze Calgary, and he told us how he and his business partner Khalid Omokanye, began this journey. He even let us take on the "Cabaret Voltaire" challenge. Sean, with a Master's Degree in Fine Arts and Computer Science, and Khalid, with a Master's Degree in Architecture, came to the conclusion over a few casual beers that the combination of their experience was perfect to start their own escape room. The two met while in university and have remained friends since.
Although the escape room has only been open for just two short months, they have not received a review that has been less than five stars. The feedback has been incredible, with customers even personally calling Sean to thank him for the excellent experience and to inquire about when the next room will open. With its unique puzzles and creativity, A/Maze Calgary has even been compared to Universal Studios.
A/Maze started as a company in Montreal and was discovered by the duo when considering opening an escape room of their own. Sean and Khalid chose to work with this company mainly because they liked the brand, but also for the expertise. The A/Maze team has a solid understanding of running a business, customer service and marketing. Sean and Khalid work with the owners of the brand and are guided by their expertise, which has been extremely valuable.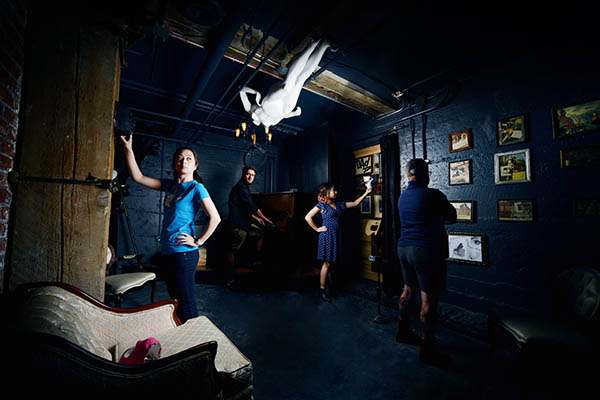 Sean sees escape rooms as an art from, or a cultural experience that makes you really think. He says that one of the most satisfying parts of his job is being able to watch people engage with his creative work. With a narrative design process, the work is tedious and challenging, but the payoff is extraordinary. Sean mentions that the creation of one room can take three to four months of design, testing, and trial and error.
The room is filled with antiques that Sean and Khalid have collected, with other custom built items to fit the room's design. A/Maze Calgary is located in the bowels of a 1911 warehouse building that was originally home to the Calgary Wine & Spirit Co. This crypt of brick and concrete, overhung with exposed piping and shot-through with murky industrial textures of rust and soot, exposes a heritage not usually visible on Calgary's clean, shiny facades.
Sean and Khalid were set on settling in a space that had a story and historical significance, and when they found this location, it just felt right. The cozy, perpetually crepuscular warrens in the basement of the old warehouse, once used for the storage of barrels and casks of wine and liquor whose ghosts still haunt the subterranean air, lend the perfect atmosphere to the room's Dada-era speakeasy intrigue. Additionally, being in Victoria Park was a big deciding factor. Sean says that the area is a significant part of Calgary and is rich with history. Both Sean and Khalid felt that the City Centre could use an accessible escape room game, as most are located in the industrial areas of Calgary.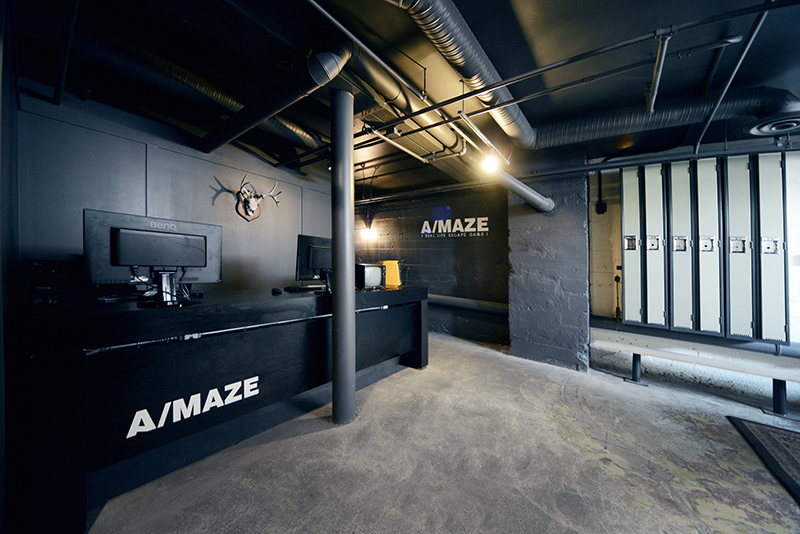 The "Cabaret Voltaire" room has an in-depth, engaging and creative story, that is exciting and fun for anyone. The puzzles and challenges really require you to work as a team, and think outside of the box. Each challenge is unique and leads you into the next – the process is very satisfying. It definitely requires the collaboration of many minds. In our team's experience, the room tells a story, and is not scary or intimidating in any way. For anyone who is claustrophobic or nervous about being startled – this is the escape room for you. It is clear that Sean and Khalid are extremely passionate and enthusiastic about their creation, and that a lot of thought has gone into it.
With another room scheduled to open in late September, A/Maze will offer even more good times and great experiences. We cannot wait to go back for more! You can book your reservation here – it's guaranteed to be a night out like no other.