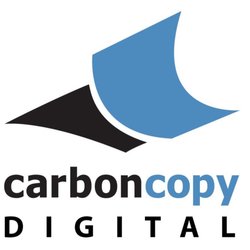 Carbon Copy Digital
110 11 Avenue SW
T2R 0B8
Canada
Our clients count on us to meet all of their digital print, signage, scanning, and document management needs on time and under one roof. Discover how our dedicated team of expert technicians, creatives, account managers, and customer service agents can help make your business more productive, competitive, and cost efficient today. Carbon Copy Digital provides a complete range of traditional and advanced reprographic solutions leveraging the latest printing, document management, and facilities management systems to support our clients.
Founded in 1979, Carbon Copy Digital is a community-minded, technology-focused company built on a foundation of corporate integrity and customer service excellence. We take pride in our complete range of premier digital document solutions delivered on time and error free 99.5% of the time.
Our experienced creative and technical staff work closely with our valued clients to maintain proficiency and to meet their unique business needs in an efficient and environmentally responsible manner. We use the latest production technology to deliver superior quality projects, wherever and whenever you need them. Our focus is on delivering incredible value that gets our clients noticed and keeps them coming back!
Hours of Operation
Tuesday, Wednesday & Friday: 7:30am - 6:00pm
Monday, Thursday, Saturday & Sunday: Closed