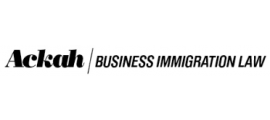 101, 1401 1 Street SE
T2G 2J3
Canada
Ackah Business Immigration Law is a boutique corporate immigration law firm based in Calgary, Alberta that works with clients all over the world. Our team is here to help your business and its people cross borders seamlessly.
Recruiting and relocating international workers to Canada and the U.S. takes time and planning. Our corporate immigration lawyers will work closely with your business and human resources team to offer expert guidance throughout the entire process.
We provide expertise in all areas of immigration law ranging from corporate immigration to personal and family immigration matters. We provide comprehensive immigration services to clients around the world representing corporations, institutions, not for profit organizations and individual clients. As your immigration lawyers and paralegals, we provide you with timely and strategic advice relating to the constantly changing immigration laws and regulations.