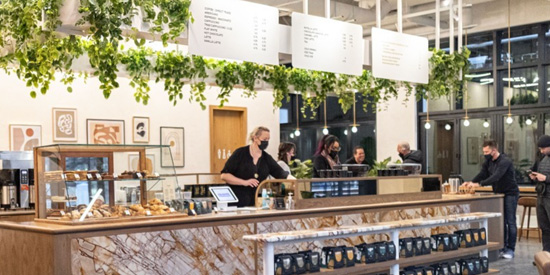 227 12th Ave SW
T2R 0X5
Canada
Deville is a group of coffee crafters & baked goods dreamers. Brewing only direct trade coffee beans, their lattes and espresso drinks have been carefully crafted by hand since day one, with ingredients like organic vanilla, and house-made chocolate ganache. Their pastries are delivered daily by the city's best bakeries, and a menu of fresh, creative, sandwiches and goods round out the menu in our cafes. They create cafés that are steeped in connection, with their friendly team serving up thoughtfully crafted direct trade coffee to the regulars whose orders they already know, and the ones they have yet to meet.
Hours
Monday: 7am — 7pm
Tuesday: 7am — 7pm
Wednesday: 7am — 7pm
Thursday: 7am — 7pm
Friday: 7am — 7pm
Saturday: 8am — 7pm
Sunday: 8am — 7pm
Located on the main floor of the IBM building next to The District at Beltline Food Hall.