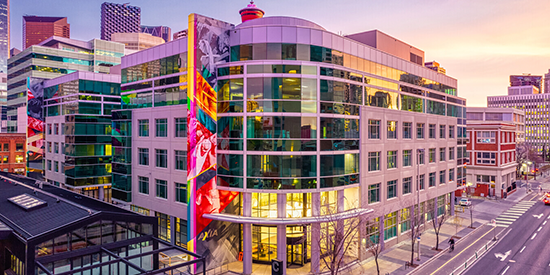 District at the Beltline
227 11 Ave SW
T2R 1R9
Canada
The District at Beltline is an urban food hall, featuring a variety of great local restaurants and eateries. 
District at Beltline has an array of restaurants which include:
1. Takori - Asian fusion taqueria serving Asian-inspired tacos and burritos and other fusion fare. Takori's concept is innovative because it combines Mexican cuisine with Asian flavours. The chilies and spices of Southeast Asia are blended with tacos and burritos, creating something that is truly unique.
2. Modern Burger - Modern Burger only serves ranch specific Alberta Beef. That means they don't serve beef from anywhere else on the planet. They know their farmers and ranchers personally and respect the hard work they put in to producing their beef. A variety of other incredible ingredients are also sourced from local ranchers, farmers, bakers and food purveyors who share these "Modern" values.
3. Oishidesu Ramen Shack - Ramen shacks can be found everywhere throughout Japan and are a popular, quick comfort food that Chef Morales is excited to share with Calgarians. Oishidesu Ramen Shack is dedicated to bringing traditional Japanese flavors to diners in fresh and creative ways.
4. Shrub Bloom - Shrub Bloom takes familiar ideas and concepts that people eat regularly and puts a unique spin on it so all preconceived bias about vegetarian food can be thrown out the window. Shrub Bloom serves vegetable forward food with a focus on sustainable, Canadian, and unique producers. Comforting dishes like gnocchi, sandwiches, smoothies, and salads will all have unique and tasty twists. 
5. Greenfish Sushi - Greenfish is the first fully sustainable quick service sushi restaurant in Canada, with a menu that is half vegan and gluten-free. No plastics are used in its packaging and nearly all packaging is 100% compostable, right down to the chopsticks. The goal of this noteworthy concept is to make it easy for diners to choose sustainability. Greenfish has done the work so guests can feel good about their choice to enjoy an uncompromised and delicious fast casual experience with a low environmental impact.
6. Roy's Korean Kitchen - Roy's Korean Kitchen will be serving Korean comfort food with a Canadian twist. Guests are invited to try Korean food from a unique point of view. Chef Roy Oh was born and raised in Edmonton, Alberta, and grew up eating burgers, pizza and nachos alongside kimchi stew, raw marinated crab and Korean BBQ. His combined experiences have inspired him to take diners on an exciting culinary adventure with this latest chef-driven concept. 
7. Kama - Fresh and vibrant dishes celebrating the beauty and bounty of the Mediterranean region, anchored by local ingredients and a passion for excellence. Kama features a beautiful sun drenched patio, private dining areas and a gorgeous centrally positioned bar- perfect for an intimate date night, lunch with friends or festive gathering. 
8. 33 Acres Brewing Company - 33 Acres Brewing is a boutique brewing concept in Calgary that has many house-made brews to try while enjoying your time with friends on their patio!
9. Central Taps - Central Taps is where great food, friends, and good times are life. Their food is prepared with quality ingredients and passion; so join them for lunch, dinner, late-night, and everything in between. Their wine and signature cocktails are crushable and so good. Their beers - well they are carefully selected and local. Good times are what they love to deliver but that's up to you.