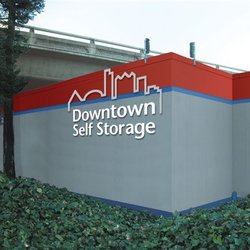 Downtown Self-Storage
339 10 Avenue SE
T2G 0W2
Canada
Downtown Self Storage offers affordable short and long term storage solutions for Calgary's home and business owners. Here are a few reasons why it makes sense to store with us:
Clean Units: Disinfected after each tenant
Pest Control: Ongoing pest control program protects your belongings
Heated Facility: Comfortable temperature for customers year round
Smoke, Fire and Burglar Alarms: Discourages unauthorized entry and has immediate response to fire and after-hours intrusion
Covered Loading Dock: Great on those rainy/snowy days
Variety of Locker Sizes: Our units accommodate any need with 8-12 foot ceilings for maximum space utilization
Low Monthly Rates: Competitive pricing and ease of payment with Visa, MasterCard, Interac and cash
Computerized Record Keeping: Timely and accurate records
Insurance: Fire and theft insurance is available
Boxes and Packing Supplies: Available on-site to assist with storing or moving
P.O. Boxes: Private mailing address
Mail Forwarding
Shipping and Receiving: Convenient and saves time and money
Video Surveillance: Interior and exterior, 24/7
Reputation: BBB Accredited Business since 1982, A+ Rating
Convenient location: Ideal for storing what won't fit in your condo, plus we're located next to a police station; how's that for added security?