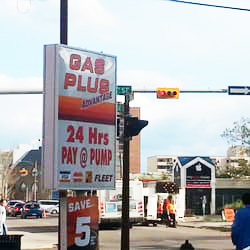 Gas Plus Inc.
204 11 Avenue SE
T2G 0X8
Canada
Gas station that is open 24 hours.
Gas Plus Inc. is your complete fuel service provider for the road ahead. We provide high quality bulk fuels and propane to independent service stations, industrial users, and farms across Western Canada. We also sell fuel from numerous company owned service station outlets throughout rural and urban areas in Alberta, BC, and Saskatchewan. Whether our customers are retail outlets or industrial/farm users, Gas Plus has the right combination of products and services to move your business forward.
Gas Plus Inc. is committed to providing its customers with a fast, reliable, long-term source of fuel at competitive prices. Gas Plus Inc. utilizes its extensive industry knowledge and solid financial base to ensure both lasting customer relationships and mutual long-term success.
Commercial/Wholesale Fuels and Propane Supply 
Buy/Sell or Condo Options
Propane Dispensing Systems
Re-branding Packages (Dispensers, Canopy, Signage)
Bulk Fuel Transportation Services
Convenience Store Services
Fully Integrated P.O.S. Systems
Pay at the Pump Technology
Fleet Card Acceptance Programs
Affiliated Vendor Purchasing Programs
Tank Installation and Maintenance Services
Above and Below Ground Tank/Line Installation Services
Tank/Line Precision Testing Services
Architectural Drawing Services
Environmental Engineering and Sampling Services