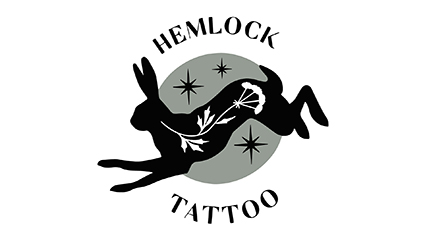 Hemlock Tattoo Studio
#1 1111 3 St SE
T2G 2S8
Canada

We are Hemlock Tattoo,
Our team is made up of Taylor Hudson, Janeen Scott, Geneva Haley and Marlee Watts. Hemlock could not have happened without the combined energy of these four women. We have each contributed our unique skills, style, and talents to the foundation of this shop. We could not be more eager to share our space with you.
The privilege of tattooing is something we take incredibly seriously. Our love for this medium is illustrated in the work we produce, and the positive connections we have forged with our clients. We recognize the power and position we hold as tattooers and we want to use this platform to facilitate a creative space that values open communication and consent. We are committed to seeking out education relevant to our industry, and implementing that education into protocols and personal training in order to protect both client and tattooer. It is our priority to cultivate an atmosphere of transparency, where we encourage questions and curiosity about the tattooing process. We are committed to maintaining a welcoming environment for anyone interested in our services.
Our dedication is, first and foremost, to our clients. We promise professionalism, with an open line of communication at all stages of the tattooing process and a commitment to accommodating the needs and comfort of each individual who enters our shop. Our second most important priority is to create a tattooing process that not only produces beautiful art for our clients to be proud of, but also highly values a collaborative and non-judgmental practice of making our clients' ideas a reality. 
We want to take this opportunity not only to introduce ourselves as a proudly female owned and operated tattoo shop, but also as a space for community, growth, education and transparency, where ethical consent is always at the forefront. We are proud to be playing a role in pushing the tattoo industry forward and away from outdated norms and intimidating atmospheres. Our responsibility is to produce excellent tattoos while constantly working towards making the industry and the wider community a safer and more welcoming place for everyone.