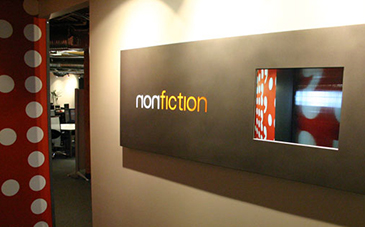 nonfiction studios inc.
450, 318 11 Avenue SE
T2G 0Y2
Canada
A leader in Canada's design and corporate communication industry. The last eight years we've developed our reach to provide strategic direction and counsel to many of North America's highest profile corporations.
We are direct in our approach, passionate about our clients and our work, relevant in our industry, unrestrained by conventional thinking and responsibly optimistic.
We are a proud group of brilliant minds who think big and act boldly.
Web & Apps
Website Design and Development
Mobile Design & Development
Custom Application Development
E-Commerce
E-Newsletters
Content Management Systems
Maintenance
Hosting

Brand Identity
Corporate Brand development
Logo design and implementation
Corporate Name development
Stationary Design

Strategic Marketing
Advertising
Ad Campaigns
Messaging
Large Format Graphic Production
Tradeshow booth design and production

Corporate Communications
Annual Reports (Public and Private Co.)
Sustainability Reports
Quarterlies
Powerpoint Presentation