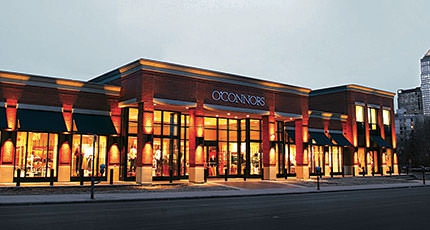 O'Connors
1415 & 1420 1 Street SW
T2R 0V9
Canada
Updated classics and contemporary styles, O'Connors is synonymous with both. Fifty years on and we're still proud to help people put their best foot forward. We feature the finest and hottest labels and collections from around the world. Our tailor shop is unsurpassed in Canada, expertly accommodating your rush fittings.
O'Connors shoe stores offer, simply put, the largest selection of men's fine footwear available in Canada. Our extensive inventory of sizes and widths means we are certain to have what you are looking for.
Experience superlative service and unique collections at O'Connors Women's store. From business to jeans and beyond we offer an extensive selection of clothing, fantastic footwear and accessories. Our on-site tailor will guarantee you'll look your best.
O'Connors continues to bring cutting edge fashion and new trends to Calgary. We strive to meet, and surpass your every need. Owner operated and proudly local, discover for yourself what discerning Calgarians have known for more than half a century - O'Connors is an unparalleled one-stop shopping experience.
We strive everyday, and in every way, to anticipate and exceed expectations. We'll replace a lost button or help you tie a bow tie with the same friendly attention to detail as expertly handling a rush fitting on a new suit or dress.
At O'Connors, we look our best only when you do!
BOOK AN APPOINTMENT
Please let us know if there is a particular Sales Associate you would like to communicate with. O'Connors appreciates the value of your time. We offer private appointments anytime at the store or a location of your choice.
MADE TO MEASURE
While we offer one of the largest collections of garments and accessories in store, some gentlemen prefer adding their own special touches, while others simply cannot be properly fit off the rack. O'Connors has an extensive selection of fabrics for suits, jackets, trousers and shirts. Our knowledge and expert tailoring will ensure a great fit! Book an appointment with one of our made to measure specialists.
TAILORING
Our tailors are the most experienced and talented in their profession, and our tailor shop is the most impressive in the country. O'Connors employs eight tailors and seamstresses, ensuring your garments will be meticulously altered in a timely fashion. Book an appointment.
SPECIAL EVENTS
The experience of choosing the right clothing should be (almost) as enjoyable as the event itself. O'Connors is honoured to help plan one of your major milestones. With over sixty years of helping Albertans put their best foot forward, we work with you to customize even the smallest detail.
SHOE RECRAFTING
Recrafting at O'Connors is more than a simple shoe repair (although we do those as well). Most of our footwear is so well made that we can return them to like-new condition. Using the original manufacturing process, often with original components from the factories, we literally rebuild worn footwear from the bottom up.
LEGAL PROFESSION
O'Connors is proud to serve the legal profession with our exclusive collection of court attire for both men and women. We carry an extensive range of sizes in the store for lawyers, and Court of Queen's Bench and judicial garments are available by appointment.
CLOSET CONSULTATION
Not sure if those pants still look good with that jacket? Can't think of a thing to wear? Let us help make sense of your existing wardrobe and suggest alterations and/or changes where necessary (and comfortable).
SPECIAL FITS
As Canada's Largest independent menswear retailer, O'Connors prides itself on an outstanding selection and a vast array of fits and sizes available in store. We carry a great variety of tall and larger size suits, jackets and dress trousers, as well as premium denim and dress and sport shirts. Selected dress and casual shoes are available.
Hours of Operation
Monday - Wednesday: 9:00am - 5:30pm
Thursday: 9:00am - 7:00pm
Friday and Saturday: 9:00am - 5:30pm