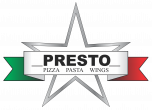 1705 Macleod Trail SE
T2G 2N8
Canada
For last 32 years, we at Presto Pizza are serving a large range of perfectly cooked pizzas to the people of Canada. Our firm emphasis on the quality of ingredients made us a locals recommended pizza restaurant in Airdrie. Stop by our new location in Calgary, or you can enjoy our exquisite variety of delicious pizzas from your place by ordering via JUST EAT. 
Find our twists of old traditional Pizzas with modern ideas on our menu that is offering Combos, 2 for 1 Pizza, Create Your Own, Pizza & Wings, Specials, Main Dishes, Kebabs, Biryani, Rice and Bread, Side Orders, and Beverages.