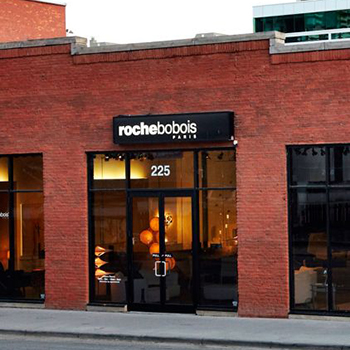 Roche Bobois
225 10 Avenue SW
T2R 0A4
Canada
The Roche Bobois Group is considered today as the world leader of high end furniture design and distribution, in addition to its ellite positioning as a pioneer creator.
Each model results from a close collaboration between Roche Bobois, the designers and manufacturers, a concept that characterizes the brand's strength and originality.  As a true testimony to its dynamism, Roche Bobois launches every six months an exclusive new collection and proudly ranks among the most talented furniture brands with an upscale international reputation.
The group is present in 40 countries through a constant rising network of more than 240 stores: approximately every month, a new Roche Bobois store opened its door to the public.
Roche bobois is the story of two families, the Roches and the Chouchans, not predestined to meet. In 1950, Jacques Roche purchased the old Alexandre Dumas theater on rue de Lyon and built two stores. His sons, Philippe and Francois, joined the company and together established the company's development strategy. They began to distribute the very best contemporary furniture, which was heavily inspired by Bauhaus designers, such as Minvielle, Steiner and Airbourne, and equally inspired by renowned designers such as Pierre Paulin and Marc Berthier. At this time, the Chouchans were selling furniture in Paris on Boulevard S'bastopol at "Au Beau Bois" (which later became Bobois).
Hours of Operation
Monday - Saturday: 10:00am - 6:00pm
Sunday: Closed