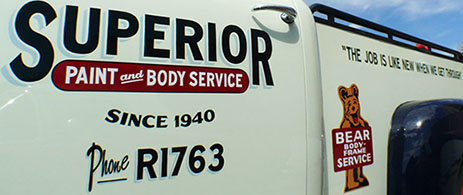 Superior Paint & Body Service
112 17 Avenue SE
T2G 1H2
Canada
Since 1939 Superior Paint & Body Services Ltd. has been a trusted choice in Calgary for your complete body and paint repair needs. Our office staff and body shop personnel have all the knowledge and experience needed to make your visit as easy and enjoyable as possible.
At Superior Paint & Body Service we take the utmost pride in our work. We guarantee, in writing, that our workmanship is of the highest caliber. Plus, as one of Calgary's oldest businesses, we have proven that we can stand the test of time while staying current with the latest technologies.
We employ some of the best people in the collision repair industry, and our staff have trained many of the workers employed at other companies throughout the industry in Calgary and beyond. In our facility alone we have almost 800 years worth of combined experience. To us this is a matter of pride. You can feel safe that all our combined experience is directed at every customer job: no matter how large or how small.
We are and strive to be a community-minded business who provides the absolute best collision repair workmanship & services to our clients. We are a company formed by individuals who have come together as a Family, always looking to the future while utilizing our expertise and lessons from the past.