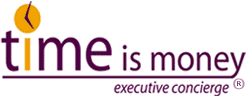 Time is Money Executive Concierge
308, 111 14 Avenue SE
T2G 4Z8
Canada
Time is Money upholds a consistent standard of superior service, solutions, promptness, reliability and creativity. We are motivated to help our clients make their life more manageable and assist them to achieve balance in all facets of their life. We are successful only when we assist our clients to achieve success, satisfaction, productivity and sustainability in their work initiatives, personal life and corporate objectives.
We understand that your time is money. In an effort to deliver positive experiences every single time we administer to our client's needs, we record all pertinent client information necessary in creating client profiles. We are in continual and direct contact with our clients via phone or email to ensure that all services meet expectations. Again, this is part of our open communication and we encourage all clients to express their thoughts, suggestions and concerns. Furthermore, we regularly send out client surveys to review the opinions and views of clients regarding different areas of our company.
We strive to develop a rewarding and special relationship with our clients. Our number one priority is to make your life easier and give you back time to enjoy the things, people and experiences that are important to you!
Time Is Money Executive Concierge Inc., located in Calgary Alberta, performs your time consuming YET essential tasks, so you can concentrate on the important things and people, in life. We manage the growing "to do" lists, easily, efficiently and conveniently. We are built on the philosophy of making your life less complicated, assisting you achieve success, satisfaction, productivity, balance and sustainability in your work initiatives, personal life and corporate objectives.
The majority of our clients are Executives, VP's, upper management and busy families. They do appreciate our ability to seamlessly combine business knowledge, interpersonal/creative skills and immaculate customer service.
By saving you time, you have the opportunity to rescue some of the time that slips away every day. You can enjoy your evenings and weekends the way you envision; doing things that you really want to do.
Six years ago we were the first concierge organization to establish the Executive Concierge Industry in Calgary and Alberta. Subsequently, we have set the standards for subsequent entrepreneurs. As a result we have been featured nationally, regionally and locally in many forms of media, highlighting our distinctive and professional services.
In the past 3 years, Time Is Money has launched a Gift Basket/Corporate Gifting Division, a Cleaning Division, a Wedding Planning Division, a Las Vegas VIP Division and most recently Senior Concierge Services.
We are not limited by our physical location or connections.