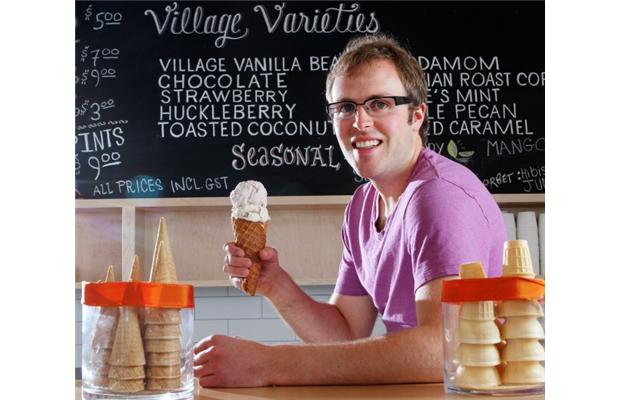 Village Ice Cream
431 10 Avenue SE
T2G 0W3
Canada
I'm Billy, founder of Village Ice Cream. The idea for Village actually came to me while sitting on my grandmother's porch in Montana on an unusually warm day in February. I sat there drowning my sorrows in a bowl of locally made huckleberry ice cream. I was lamenting my failed motorbike trip from Calgary to Rio de Janeiro. I'd hoped this journey was going to pave the way for my life's purpose, but somewhere near Oaxaca Mexico I decided to pack it in. Life's answers were just not coming to me. 
It was this creamy , rich huckleberry ice cream that calmed my mind and made way for an idea. Was ice cream actually my life's purpose? Could my favourite treat actually translate into a viable and fulfilling career path? 
I returned home with this new calling: to create the most exquisite ice cream to share with fellow Calgarians - a little of the same creamy bliss I had experienced back on my grandmother's porch.
At Village we're in hot pursuit of perfection in every detail of our business; from sourcing the best flavourings that go into every batch of our hand made ice cream to searching out an exceptionally talented team of staff. The Village team is truly  the foundation of our creative and supportive work environment. And we certainly wouldn't be Village without you, the Villagers, who brave floods and hail storms and -30 degree weather to come in and slow down and talk and have a taste. 
Hours of Operation
Summer (May - September)
11:00am - 11:00pm 7 days/week
Winter (October - April)
Sunday - Thursday: 11:00am - 10:00pm
Friday - Saturday: 11:00am - 11:00pm