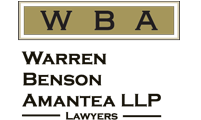 Warren Benson Amantea LLP
1413 2 Street SW
T2R 0W7
Canada
Warren Benson Amantea LLP has been serving our clients for over 40 years. Founded by three prominent Calgary lawyers in 1969, the firm now known as Warren Benson Amantea LLP has grown into a well respected firm whose commitment to provide quality legal services to our clients remains steadfast.
Warren Benson Amantea LLP is a full service law firm with the foundations of our practice being business law, tax law and advocacy. The lawyers at Warren Benson Amantea LLP come from diverse backgrounds which provides a tremendous benefit to our clients - that being knowledge and experience. Warren Benson Amantea LLP prides itself to working in a team environment which provides for practical, creative and effective legal services and being able to respond quickly and efficiently to all of our clients needs.
Our firm is very active within the Calgary community. We act for major banking institutions, professional sports franchises, pension funds as well as individuals and corporations, large and small. We support local events and charities. In the past, we represented the XVTH Olympic Winter Games Organizing Committee and have volunteered with many charities such as Habitat for Humanity.
We at Warren Benson Amantea LLP believe the history of our firm is reflective of the quality and reputation of the people associated with the firm and the clients we have served over the years. We are proud of our heritage, committed to our clients today and are excited for our future.