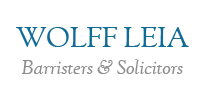 Wolff Leia Barristers & Solicitors
#203 221 10 Ave SE
T2G 0V9
Canada
Wolff Leia is an energy, insolvency and securities law firm which is uniquely qualified to address the changing times. With an entrepreneurial history of owning and operating oil & gas exploration companies, Wolff Leia lawyers offer a unique combination of skills and experience.
We counsel clients in a broad range of businesses including oil & gas, mining, agriculture, financial services, insurance, technology and manufacturing. We work in partnership with our clients to deliver the most effective solutions for our clients' needs. We strive to utilize our expertise and specialization to provide solutions which add value to our clients' endeavours and compliment their business strategies and goals.