More
Less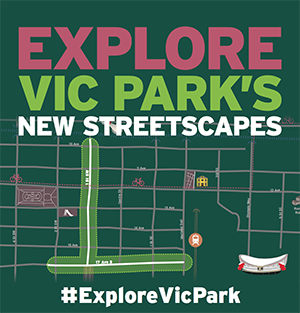 Victoria Park's shiny, new streetscapes are nearly completed on 1 Street SW and 17 Avenue S, so we are having a contest to celebrate.
We want to see you out supporting the businesses on both roads, but we need proof! Take two selfies in Victoria Park businesses – one on 1 Street SW and one on 17 Ave S, and post each photo to Twitter or Instagram with the hashtag #ExploreVicPark.
Even better, for every additional pair of selfies you post from businesses you visit (one from each street), you'll gain another entry for the draw! The BIA will be tracking entries as photos are submitted.
What are you waiting for? You have until December 29, 2017 to enter to win one of five great prizes, including Flames tickets or A Night Out in Vic Park prize pack!